When it comes to homeownership, there's a big difference between a backyard and an outdoor living space. A backyard is perfect for football games, playing fetch, and the occasional backyard BBQ. An outdoor living space still is almost an extension of the inside of your home, creating a new area to enjoy meals, open-air entertaining, or even a quiet night in front of a fire.
But when the summer sun rides high, an uncovered patio can quickly become a headache-inducing hotspot, making it difficult to enjoy your outdoor refuge. Installing a patio cover that provides shade will help keep you cool in the summer heat and enhance the looks and usefulness of your backyard all year round.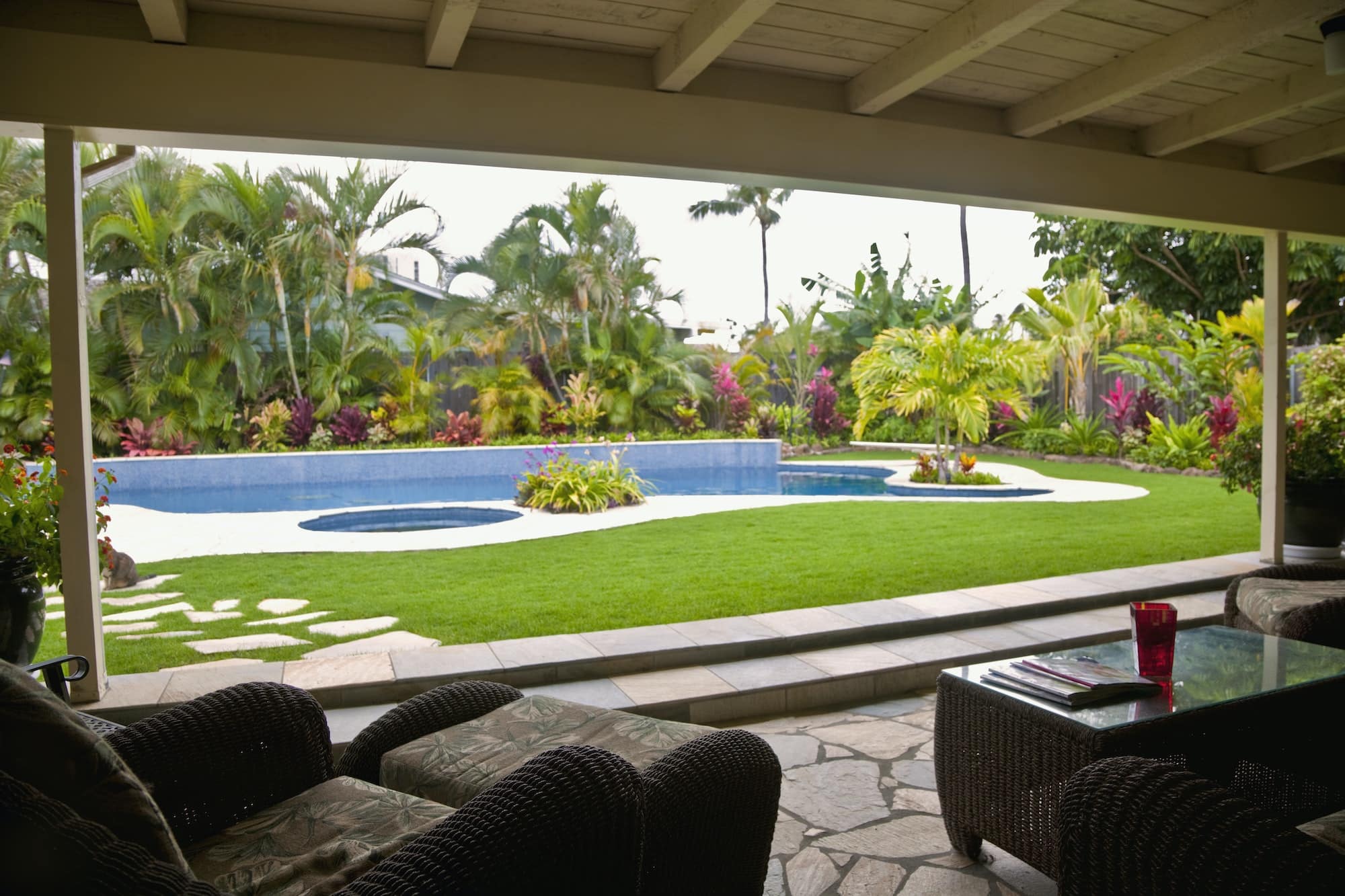 To help with your planning and inspiration, we've put together this comprehensive guide that includes everything you'll need to know about patio covers. We've also thrown in some fun ways to turn your space from drab to fab so you can get the most out of your outdoor space.
Choosing the Best Patio Cover for Your Space
When browsing patio cover options, the "best" one is usually the one that meets all of your needs. It's important to consider how much space you need to cover, how you plan to use the space, and what elements you may need to shield against.
A simple sheet sail can be set up in minutes for those who occasionally use their smaller yard, providing ample outdoor dining or relaxing coverage. For larger spaces that are used more frequently, a more permanent structure, such as a gazebo or pergola, will combine a cooling cover with an attractive structure that enhances the looks and functionality of your yard.
At the higher end of a budget, a retractable roof or awning made from waterproof fabric or metal can transform a patio or terrace into a true outdoor living space, usable in fair weather or rainy days.
But before deciding on the size and style of cover that best suits your patio, always remember to do your research and find out about your local zoning and permit laws. If laws or regulations are in place, they could restrict the kind of structure you build. This is particularly important for permanent features such as gazebos and pergolas.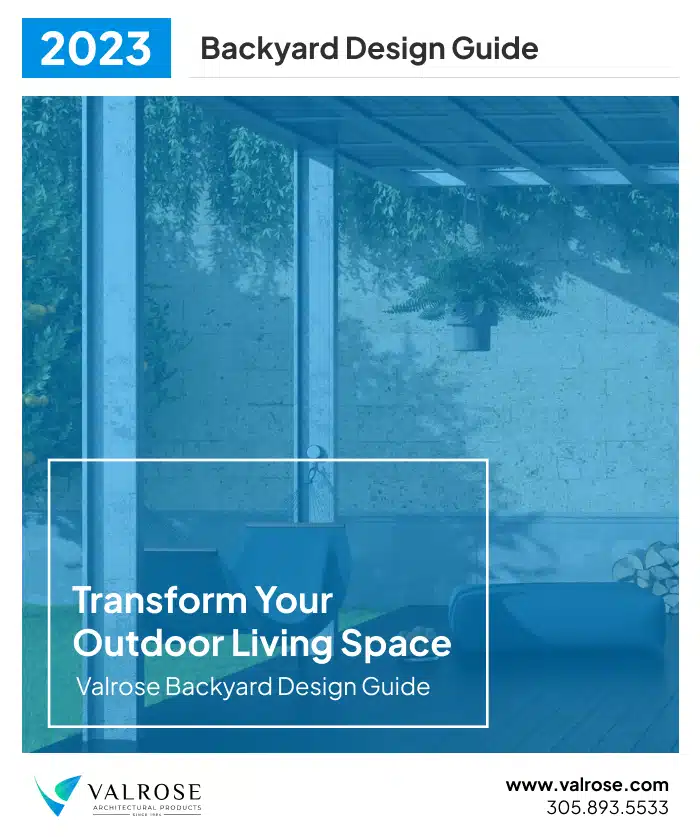 Get A Free Copy Of Our 2023 Backyard Design Guide
Our free design guide includes product ideas, design inspiration, and everything else you'll need to design the perfect outdoor living space
Popular Types of Patio Covers
Permanent patio covers make it simple to enjoy your yard at a moment's notice, available whenever the weather's right and you have time on your hands. There are four main kinds of permanent patio covers on the market today.
Pergolas
A pergola is a solid structure with a shading roof supported by poles or columns. In many cases, the roof is formed by a metal framework fitted with However, pergolas can also be fitted with solid roofs for even greater shading ability in areas with strong, direct sunlight throughout the day.
A pergola can be built as a free-standing structure, providing shade in any part of your yard, or attached to one of your home's walls to shade a patio or terrace.
Gazebos
A gazebo is similar to a pergola but is more often made as a freestanding structure than fixed to a wall. Gazebos also have solid roofs rather than latticed ones, providing protection against rain and shade from the sun.
Gazebos are usually made to have more elaborate and attractive designs than the more functional pergola. They can be a decorative feature for your yard and a helpful convenience.
A popular type of gazebo, known as a cabana, offers one or more closed sides and a roof, giving extra protection from the wind or low sun. This makes it an ideal choice for a poolside when you want a higher degree of shelter.
Retractable Roofs
Retractable awnings provide excellent versatility for the South Florida climate. On beautiful cooler days or sultry evenings, they can be rolled back to enjoy your yard in the fully open air, but when the sun is at its fiercest, they can be quickly extended to provide that vital cover.
Retractable awnings are available with various features that will impact the price. A straightforward canvas awning operated by a hand crank can be an inexpensive way of creating some shade, but at the lower end of the range, you probably won't see the rugged construction needed for years of heavy use.
Moving up a level, coating the fabric with acrylic or vinyl will improve waterproofing and durability while adding a motor for effort-free retracting pushes up the price a little more.
At the top end of the retractable roof range, a structure made of metal or fiberglass will provide excellent shading and long-lasting durability, making it a worthwhile investment if you love to spend time outdoors.
Trellises
A trellis provides a lower level of shade but can add a great aesthetic to any patio cover. Built using a small lattice-like framework with a roof and one or more sides, a trellis is often covered with climbing plants that provide natural, dappled shade. This kind of cover is particularly useful when the sun is low toward the horizon rather than at the height of the midday sun.
However, trellis frames can also be covered with fabric or another kind of sheeting to achieve a similar amount of mixed shade.
A trellis can be one of the most economical ways of providing shade, with simple models available for minimal cost, but they can require a little more maintenance work than other types of cover. If you use climbing plants to provide the extra shade, you'll need to care for them by watering, feeding, and pruning to keep them in shape. This can make the trellis and plants combination an inconvenient option for people who aren't keen gardeners.
Inexpensive Ways to Cover a Patio
While a high-end patio cover, awning, or pergola can be an excellent investment for your outdoor living spaces, there are other ways to gain a little shade without spending a fortune. If you don't always spend much time enjoying your summer yard, one of the following two approaches could make a more realistic and cost-effective shading solution.
Shade Sails & Cloths
Shade sails and cloths can be put up and taken down in minutes, providing instant shade for smaller areas. They're usually attached to a wall at one side, and supported by posts or trees at the other, with heavy-duty ties to fix the sheet in place. When properly installed, the sail's natural tension provides shade and protection from moderate rain.
Sail shades can be used singly to cover a specific area, or several at once can be installed above a larger patio, giving an attractive pattern of light and shade depending on how wide you make the gaps between them. However, it's important to fit them at a generous height above your patio, or else the warm air can become trapped and heat up to glasshouse levels.
Shade sails are available in various colors to match and enhance any outdoor space. It's important to remember that they're not suitable for extremely windy conditions, so be sure you can take them down if the forecast calls for poor conditions.
Adjustable Umbrellas
When it comes to easy and economical patio shade solutions, an adjustable umbrella is hard to beat. Choose from large umbrellas capable of shading a full sitting area down to smaller designs suitable for covering a single lounger and all shapes and sizes in between.
One versatile advantage of umbrellas is that the position can be adjusted to follow the sun's journey across the sky, providing coverage at any time of day. They're also quick to set up and can be stored compactly when not in use, making them a good choice for occasional or weekend use where a full patio cover might seem a little too extravagant.
However, umbrellas are unsuitable for windy conditions, even when securely weighed down, meaning they aren't a good choice for all locations. Always fold them down when not in use in case the weather takes an unexpected turn for the worse.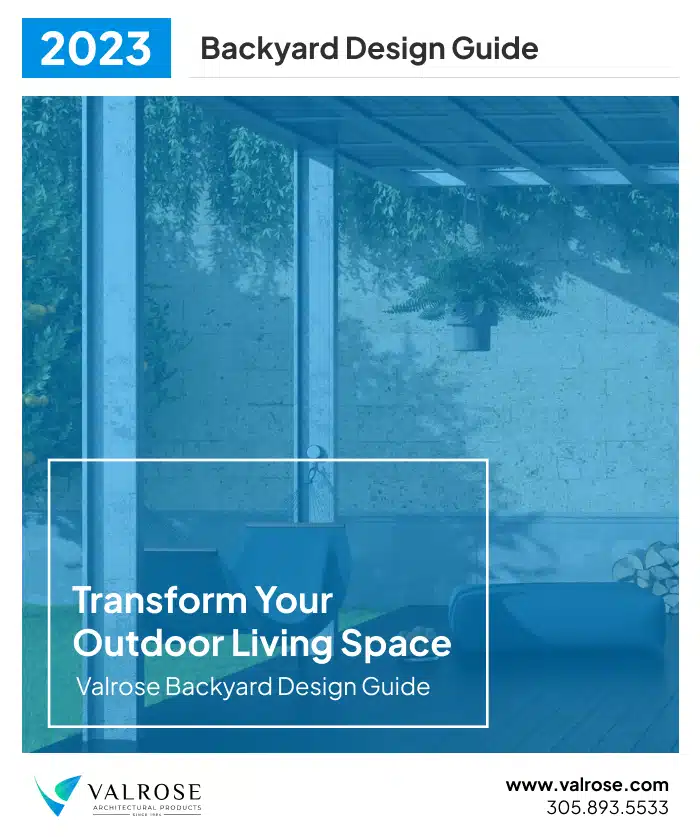 Get A Free Copy Of Our 2023 Backyard Design Guide
Our free design guide includes product ideas, design inspiration, and everything else you'll need to design the perfect outdoor living space
Use Patio Accessories to Liven Up the Space
While covering a patio will immediately make it more usable, adding some patio accessories will help give it a more personal touch. The options for livening up the space are endless, but here are a few ideas to set your imagination flowing.
Patio Furniture
Patio furniture can be so much more than just functional seating and a table made from rainproof plastic. A covered patio gives you more versatility in the range of styles and materials you can use to furnish it, thanks to the increased protection from the weather that the cover provides. Here are some ideas you can use as a starting point.
Pair wicker furniture with containers of cactuses or other large plants to create a natural and laid-back look.
Use boldly colored throw cushions on a plain white sofa to create a cheerfully playful theme.
Add a table and chairs made from reclaimed wood to bring a relaxed and rustic feel to your outdoor dining.
Pair metal tables and chairs with more luxuriously padded sofas to add contrast and interest to your furniture selection.
Dispense with the dining set and furnish your patio with beanbags, fluffy cushions, and a low coffee table to create a peaceful haven for relaxing at the end of a busy day.
For family patios, bench seating can double up as storage, keeping toys, sports equipment, and more neatly stowed yet quickly available.
Install a Hammock
There's no reason your patio furniture needs to stick to tables, chairs, sofas, and loungers. Installing a hammock under your patio cover can create the ultimate space for relaxation, whether you choose a design attached to the cover's structure or a freestanding piece of furniture.
Not only does a hammock make for wonderfully relaxing afternoons with a book, but it also adds character to your patio as it swings in the breeze.
Decorative Lighting
Adding an element of lighting to your pergola can create a space usable at all times of day, allowing you to enjoy the afternoon in the heat or simply enjoy some late-night open-air peace.
When designing your lighting, there are two approaches to consider. You'll need to ensure there is a comfortable amount of light for reading and other activities. But perhaps more importantly, adding decorative lighting can completely transform the space by creating an enchanting atmosphere.
Consider using pendant lights as the central light source, backed up by lanterns on the pergola posts or patio wall, or even string lights climbing around the cover supports to add a sense of height and drama. For an extra touch of magic, install a dimmer switch for the main lighting, alongside separate controls for the different lighting elements, so you can adjust the light levels to suit your mood.
And lastly, for decorative lighting with real dramatic impact, a fire pit – whether real or an electric imitation – adds glowing movement to your evenings to create that last touch of atmosphere.
Contact Us Today to Learn More About Your Patio Cover Options
Enhancing your patio allows you to transform your outdoor area into a true living space that's almost as good as an extra room in your home. From a simple sail shade to permanent structures to a motorized retractable roof, the shade pros at Valrose can design the perfect solution for you.
If you'd like to learn more about your options for patio covers in Florida, give us a call today. Our experts are ready to discuss your project and schedule your site visit.